March 16, 2021
Duracell and The American Academy of Pediatrics Join Forces to "Power Safely"
Duracell and The American Academy of Pediatrics Join Forces to "Power Safely," Helping to Further Educate and Drive Awareness to the Importance of Lithium Coin Battery Safety
More important than ever due to an increase in battery ingestions* and more time at home during the pandemic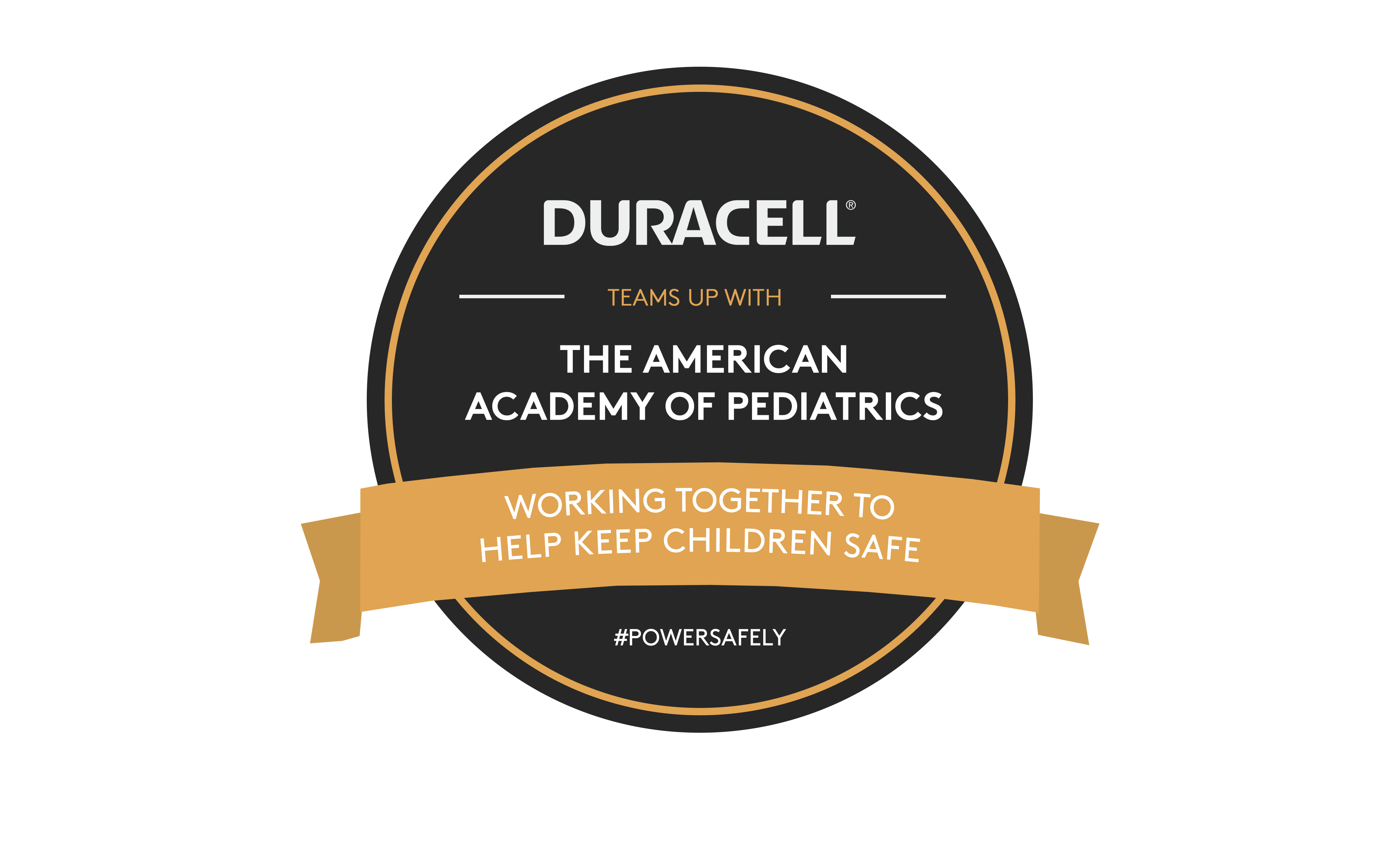 March 16, 2021 – BETHEL, Conn.–(BUSINESS WIRE) — Duracell, the most trusted battery brand, announced today that it is teaming up with The American Academy of Pediatrics (AAP) to help educate parents and caregivers about the importance of lithium coin battery safety to help prevent accidental lithium coin battery ingestions. With families spending more time at home combining work and home life into one, lithium coin battery safety is more essential than ever. This is why Duracell, with support from the AAP, is expanding upon its "Power Safely" program, which provides parents and caregivers access to lithium coin battery safety information and resources from their child's health care provider to help keep their children safe.
"Young children are curious by nature, and part of their exploration of the world around them can include putting things in their mouths. This makes it particularly important to keep dangerous objects like small batteries safely stored away," said pediatrician Ben Hoffman, MD, FAAP, chair of the Council on Injury, Violence, & Poison Prevention of the American Academy of Pediatrics. "We're all spending more time in our homes, and there are devices everywhere, like remotes, key fobs and thermometers that may include small lithium coin batteries that are a hidden danger. In the past two decades, we've seen an increase in emergencies when young children have swallowed lithium coin batteries, as well as button batteries, with sometimes devastating results. Parents should keep batteries away from young children. Secure packaging and product innovations like a bitter coating offer additional layers of safety to help protect children."
Through Duracell's "Power Safely" initiative, Duracell and the AAP will help to educate parents and caregivers on how to help keep children safe from lithium coin batteries. As part of the safety advice that pediatricians give parents during regular well-child check-ups, AAP recommends pediatricians counsel parents of babies and toddlers to keep lithium coin batteries out of reach. This summer, AAP and Duracell will distribute a lithium coin battery safety checklist to AAP member pediatricians that outlines common household devices that use lithium coin batteries and how to safely store such devices, as well as information on additional layers of protection, like secure packaging and using Duracell's lithium coin battery with bitter coating to help discourage swallowing. Parents and caregivers can also download the lithium coin battery safety checklist on Duracell.com and HealthyChildren.org.
"Duracell is devoted to giving parents and caregivers another line of defense when it comes to helping avoid accidental ingestions, which is why we have launched a non-toxic bitter coating on our most popular lithium coin battery sizes that is designed to help discourage swallowing," says Roberto Mendez, President, Duracell North America. "Duracell is deeply committed to the relationship with the AAP, which will help educate parents and caregivers on the importance of practicing lithium coin battery safety throughout the home and help guide Duracell as we launch future safety innovations."
"Power Safely" kicked off in October 2020 with the release of an educational campaign and video by Duracell, and Duracell pledges to continue the campaign throughout this year and beyond. The video highlights how even the most child-proofed homes can still have hidden dangers and encourages consumers to practice hands-on prevention steps, like safely storing devices that contain lithium coin batteries away from children and using lithium coin batteries that come in child secure packaging and have a bitter coating. To learn more, please visit Duracell.com or HealthyChildren.org.
*Consumer Product Safety Commission: Hospital Emergency Room Treatment for Some Product-Related Injuries Rose During the Pandemic, Even as Overall ER Visits Dropped
About Duracell
Started in the 1920s, the Duracell brand and company was acquired by Berkshire Hathaway Inc. (NYSE-BRK.A, BRK.B) in 2016 and has grown to be the leader in the primary battery market in North America. The iconic Duracell brand is known the world over. Our products serve as the heart of devices that keep people connected, protect their families, entertain them, and simplify their increasingly mobile lifestyles. Berkshire Hathaway Inc. is a $250B holding company owning subsidiaries that engage in diverse business activities. Visit www.duracell.com for more information; follow us on Twitter.com/Duracell and like us on Facebook.com/Duracell.
About the American Academy of Pediatrics 
The American Academy of Pediatrics is an organization of 67,000 primary care pediatricians, pediatric medical subspecialists and pediatric surgical specialists dedicated to the optimal health and well-being for all infants, children, adolescents and young adults. For more information, visit www.aap.org.
Contacts
Citizen Relations
Chloe Magliato
chloe.magliato@citizenrelations.com
AAP
Lisa Black
lblack@aap.org